Official - Visitor Information - National Museum of Ghana

The museum building was opened on 5 March 1957 as part of Ghana's independence celebrations.
---
---
Opening hours are between 9.00am and 4.30pm daily, except Christmas day.
Advertisement

Entrance fees are as follows:
Visitor CategoryEntrance Fee*

Pupils from Primary to JHS 3GH¢ 1.00S
HS Students (Secondary / Technical)GH¢ 2.00
Tertiary Students with IDGH¢ 3.00
Ghanaian AdultsGH¢ 5.00
Foreign ChildrenGH¢ 5.00
Foreign Students with IDGH¢ 30.00
Adult ForeignersGH¢ 40.00

Non Ghanaians can pay the Cedi equivalent of their respective foreign currencies.

*Entrance fees were reviewed in 1ST January 2015.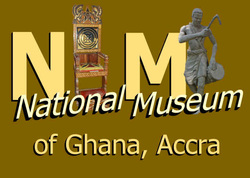 The National Museum of Ghana in Accra, is the largest and oldest of the museums under the administration

of the Ghana Museums and Monuments Board.
The museum building was opened on 5th March, 1957 as part of Ghana's independent celebration.

The official opening was performed by Her Royal Highness, the Duchess of Kent, the Late Princess Marina..


Type of Museum: Museum of Ethnography
Status: National Museum
Year established: 1957
Governing Body: National Commission on Culture / Ghana Museums and Monuments Board
Collections: Ethnography, historical objects, wooden objects, bead works, musical instruments, currency, maps, jewelry and personal adornments.
Publications: Exhibition catalogues, post cards.
Facilities: Restaurant and bar, guided tours, research.
Opening Hours: 09:00 - 18:00 Hours Daily
Chief Officer: Dr. Prosper Yao Dzemefe Acting Director

---
Pages, on this website:


---
Advertisement
---